I got a bit of a late start on my Christmas cards this year. In fact, I'm still waiting for them to ship to me, and since Shutterfly chose not to use Fedex, I think I can expect to receive them within a week or two after Valentine's Day.
I might not be so frustrated about the timeline if the entire process hadn't started off on the wrong foot, as it almost always does. It shouldn't have, either, because I thought everything through. I picked a sunny (but not too sunny) spot in my foyer, hung a sheet to use as a makeshift backdrop, and bribed the kids with everything from candy to new movies before finally settling on a glass of highly-coveted eggnog.
I should have allowed them five minutes to beat each other senseless. You'd be calling me Anne Geddes by now.
With thoughts of their sweet treat in mind, they actually performed pretty well. But in almost every photo, something was off-- either the light was too light, or someone wasn't very clear, and before I knew it, I had torn down the white sheet that made them look too washed out and traded it in for a navy duvet cover that wasn't quite as wrinkly.
But despite their smiles and unusually sunny disposition (maybe I should be fearful of 12/21/2012), the photos just weren't great. What would I use for a Christmas card? I thought back to last year and remembered my diligent effort to create something magical out of nearly nothing, so I opened Adobe and got to work.
Maybe that was too negative, though. Plus, who uses tinsel anymore? I pulled one of the photos that featured Oscar, thinking that perhaps he might put a fresh spin on my tired ideas.
Perhaps not.
I think I my cards had officially "jumped the shark" at that point, and nothing, save for a photo of them literally jumping over a shark, could rejuvinate my efforts. But I had those other photos with the blue backdrop, right? The lighting was so much better in those shots that they were bound to create a truly magical moment.
I think I need to make a resolution to take some actual photography classes, or at the very least invest in some window coverings for my basement. Although such a purchase would probably be in vain because vertical blinds would make an appealing weapon for a five and three year old during an eggnog-fueled brawl.
Feeling somewhat defeated, I pulled out a photo that was clear, not obscenely bright, lacking a lazy-eyed dog, and decided that this might just be as good as it gets for 2012. After all, for a year with hospitalizations, runaway motorhomes and questionable behavior, sometimes a mom needs to take what she can get.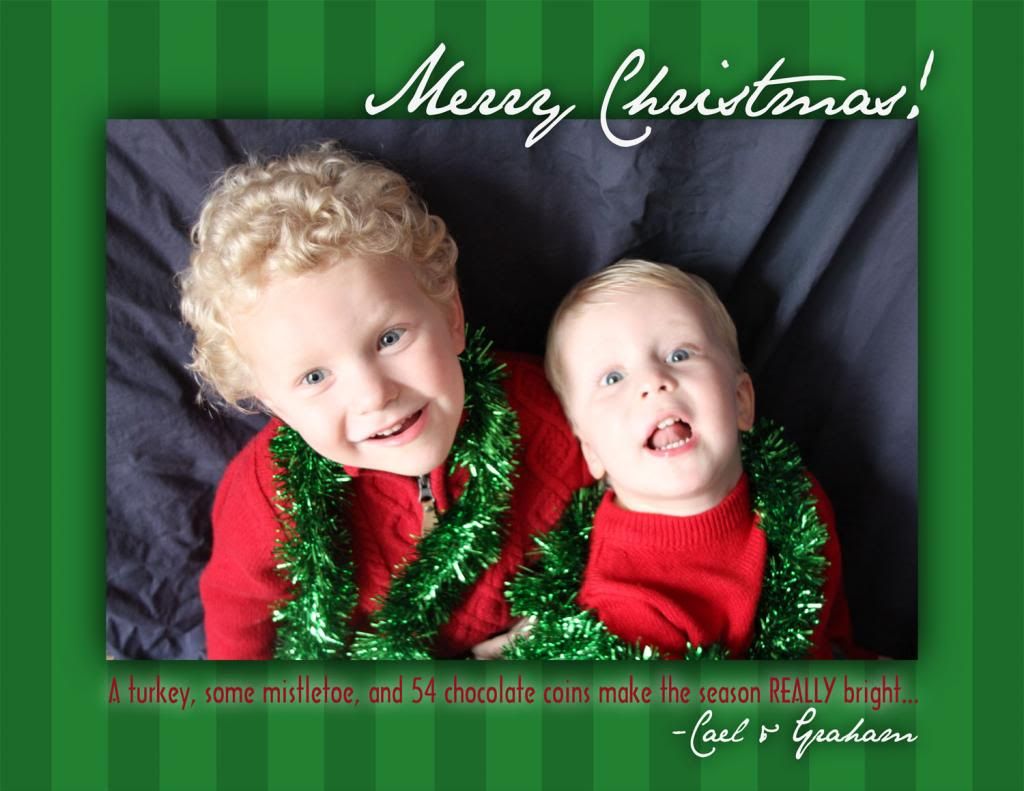 After giving serious thought, downing my own glass of eggnog and perusing the photos one more time, one picture caught my eye. Seeing their smiles reminded me that Christmas is not about the perfect photo, or wrinkle-free backdrops or even glasses of eggnog (although that one is pretty important). Christmas is about God's love, about giving and about promise.
Yeah, like that.
Merry Christmas, friends.