Go ahead, congratulate me.
Yesterday was my seventh wedding anniversary, and after a big meal and a movie, I decided that today would be a great opportunity to address the final question from my
Fifty Thousand
post.
(For you, Shaz!)
So...
how did Joel and I meet?
Well, it all started with baseball. When I arrived at Cornell College in the summer of 2001, we had to go through the steps of orientation before classes began. We spent several days in peer groups doing activities, touring the campus, learning the routine of the dining hall, etc. One day, we were released to meet up with our work study advisors, so I make the short walk to the Admissions building where I was assigned to be an assistant to one of the admissions counselors. There were only five or six students granted this position, which I considered to be a bit of a privilege because we were payed more than the other campus jobs and expected to communicate directly with prospective students.
Outside our dorm, Cornell 2001
There was only one male student who had been granted the same position, and within only moments I understood why he was there. He had such an ease in conversation and before the meeting had even begun, had the room in stitches while telling the story of how his Dad, many years earlier, had gone to the theater to see "Field of Dreams". He loved the movie, and with baseball being such an important part of their lives, woke up Joel and Seth (Joel's older brother) to play baseball in the backyard.
The first time I brought Joel home, 2002.
I didn't know this boy personally, but something about his affable personality made me feel drawn to him. We talked on the way out of the meeting and discovered that we lived in the same building, were both music students and would be having a great deal of courses together, were both in choir and would therefore be seeing each other for near-daily rehearsals, and had countless other things in common that knitted us together in a way that I'd not experienced before.
We were dating before classes even started. And that December I got dumped
.
I wasn't surprised, really. We got together so early on in the year, and between music and baseball, he didn't have time for a relationship. I was hopelessly needy, sensing that he was pulling away, and when we broke up it was far from unexpected. But it was unexpected when he came back to me.
After Spring Break our freshman year, Joel had a change of heart. He was ready to give it another chance, but I felt as though I'd given too many chances before and decided, for once, to stand my ground. So I made a mental list and recited
"The Reasons Why You And I Will NEVER Work".
Hah.
Joel made it his personal goal to prove me wrong, and by that summer and a whirwind trip to Seattle, he had erased my doubts. By the following December, (Friday, December 13th, actually) he'd purchased a ring and proposed to me as we danced to live jazz.
First visit to Seattle, summer 2002.
We stuck together through four years of college, tackling classes and papers and finals with the support of each other, and on May 28, 2005, we finally graduated.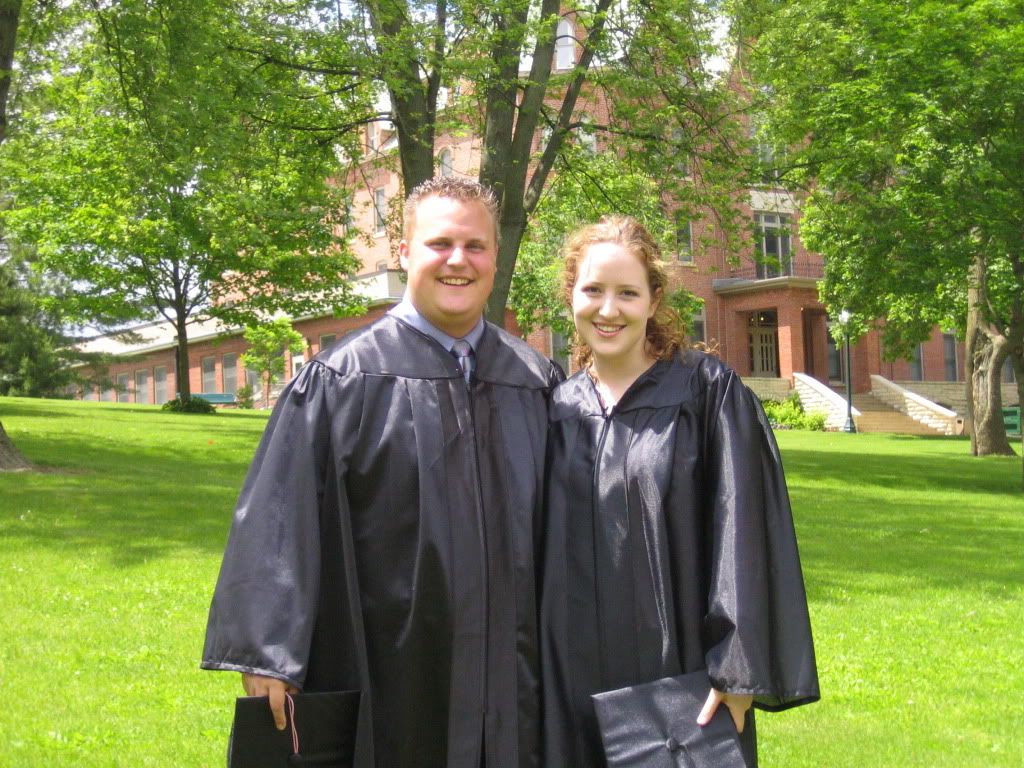 Cornell College graduation, 2005.
And as if that wasn't stressful enough, we were married six days later.
Our wedding, June 3, 2005
On June 3rd, 2005, I retired my list. And while I may have compiled other lists over the last seven years, lists like "Reasons Why You Shouldn't Be A Plumber" or "Reasons Why You're Actually Five Years Old", my favorite list is one seven years in the making.
"Reasons Why I Love You".
And I'm still writing, babe...