For the record, I stand by my posts. They're all true and after a year I don't regret them... except one. About a year ago, I
went camping for the very first time
, and it seemed like everything that could have gone wrong did. The weather was scorching, the air conditioning in our friends' camper refused to function, and raccoons raided our campsite repeatedly.
After this past weekend, I think I completely overreacted. There are so many things that could have gone wrong that didn't, and I know that now, because all of those bad things happened
this weekend
instead.
With the same friends, we decided to drive to a secluded campground at Belva Deer lake, a pretty but creepy body of water with dead trees that could be the setting for an indie slasher film.
Little did I know, the horrors had just begun.
Despite the fact that we'd made several wrong turns on the way to the campground, we arrived in good spirits and scouted out two adjoining sites for our motorhomes. We parked and worked steadily for 30 minutes to get the campers leveled, hooked up to electricity and water and awning unrolled, all while unsuccessfully corralling four bored children who were ready for some outdoor fun.
Just as everything was properly set up, a DNR truck drove by and a gentleman with little else to do rolled down his window to ask if we had reserved these sites.
Of course not.
To be honest, we simply forgot to check if our campsites had been reserved by any other campers. So while the guys went to locate two other adjacent slots, my friend and I started packing everything up, the kids pulling things out, moving cords and generally making the problem worse. So we ushered them into our motorhome and begged them to stay put while we disconnected the electrical feeds and gathered our belongings.
Just as Joel got back to move the Airstream to our new location, he heard a scream. And not a
so-and-so-took-my-toy
kind of scream, but a
something-is-really-REALLY-wrong
kind of scream. I was over at our friends' site moving a leveling block when Joel came running with their daughter in his arms, just a howling blur rushing past me. When he returned, Joel's white fishing shirt was covered in blood and I soon saw the trail of red left behind in the aftermath of the little girl's deep cut to the eye on the counter between our camper's twin beds.
After several minutes had passed, it was clear that she would need stitches, so my friend strapped the poor girl into her carseat and headed off for the 90 minute drive home to the hospital, since there were no medical centers nearby. We didn't know for sure if they would return, but the rest of us made the most of the afternoon playing with water balloons and my favorite childhood water toy, Willy the Water Bug.
When dinner time rolled around, we were excited to see our friend return with her little patient in tow, her eye freshly glued shut. As the men fired up the grill and prepared the brats we'd brought along, the kids and the moms headed over to the playground nearest our site to let the children burn off some energy.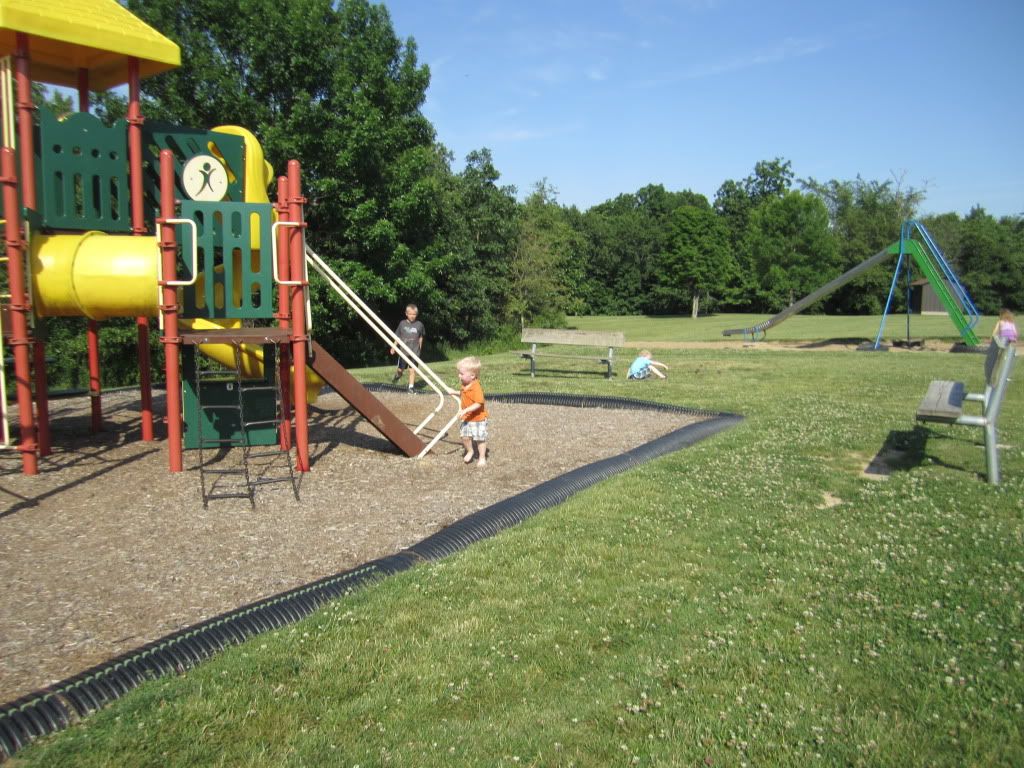 Cael immediately gravitated to the slide, and instead of manning the jungle gym, Graham decided to follow his brother. I eyed him very carefully and mentioned repeatedly how nervous I was to see my youngest negotiating the tall slide with so little experience.
And then Cael fell sideways off the top and landed on his back.
I was so busy fussing over Graham that I hadn't even considered Cael to be at risk. But when I saw him slam into the ground with a sickening thud and
bounce
, I was on my feet and running at full-speed. Miraculously, he was fine for which I am overwhelmingly grateful considering that I didn't have the presence of mind not to scoop him up until I was sure his back wasn't injured.
As I carried him, shaken, back to our campsite, we were stopped repeatedly by concerned campers that saw him fall and hadn't been plagued by campground atrocities since their arrival. We took it easy for the rest of the night, and after the kids were tucked into their themed sleeping bags, we finally sat around a relaxing fire.
We had to leave quickly the next morning to get back in time for an appointment the next morning, so we packed up early, ate breakfast and got on our way.
After waiting for close to 30 minutes to empty our tanks at the aptly named dumping station, we wove through the countryside and stopped for gas in a small town near the interstate.
That's when we drove into the gas pump.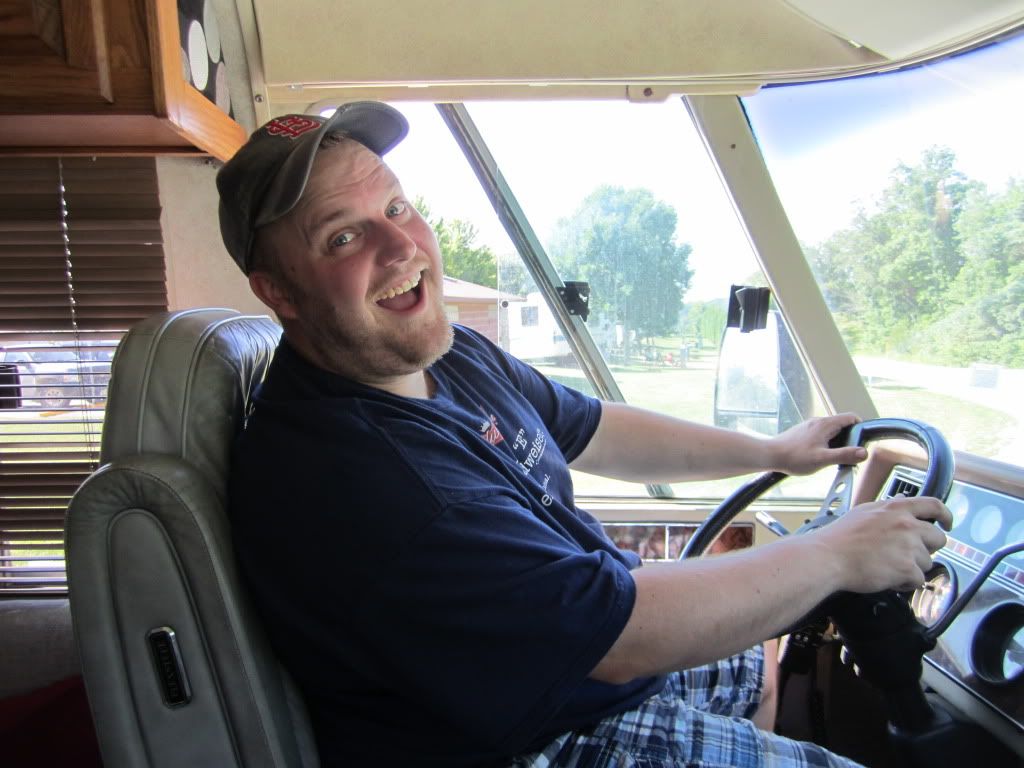 Hrmph. If that's not Murphy's Law, I don't know what is.